COMPETION NOW CLOSED
Thank you to all those who took part!
Day 1 Lucky Winners - E. Williams from Conwy & S. Walls from Scarborough
Day 2 Lucky Winners - K. Love from Cheshire & M. Ancliffe from Lancashire
Day 3 Lucky Winners - J Lewis from Carmarthenshire and L Donnelly from Glasgow
Day 4 Lucky Winners - H Hulme from Devon and M McCrimmon from Scotland
Day 5 Lucky Winners - B L Sanneh from Berkshire and G Owens from Northamptonshire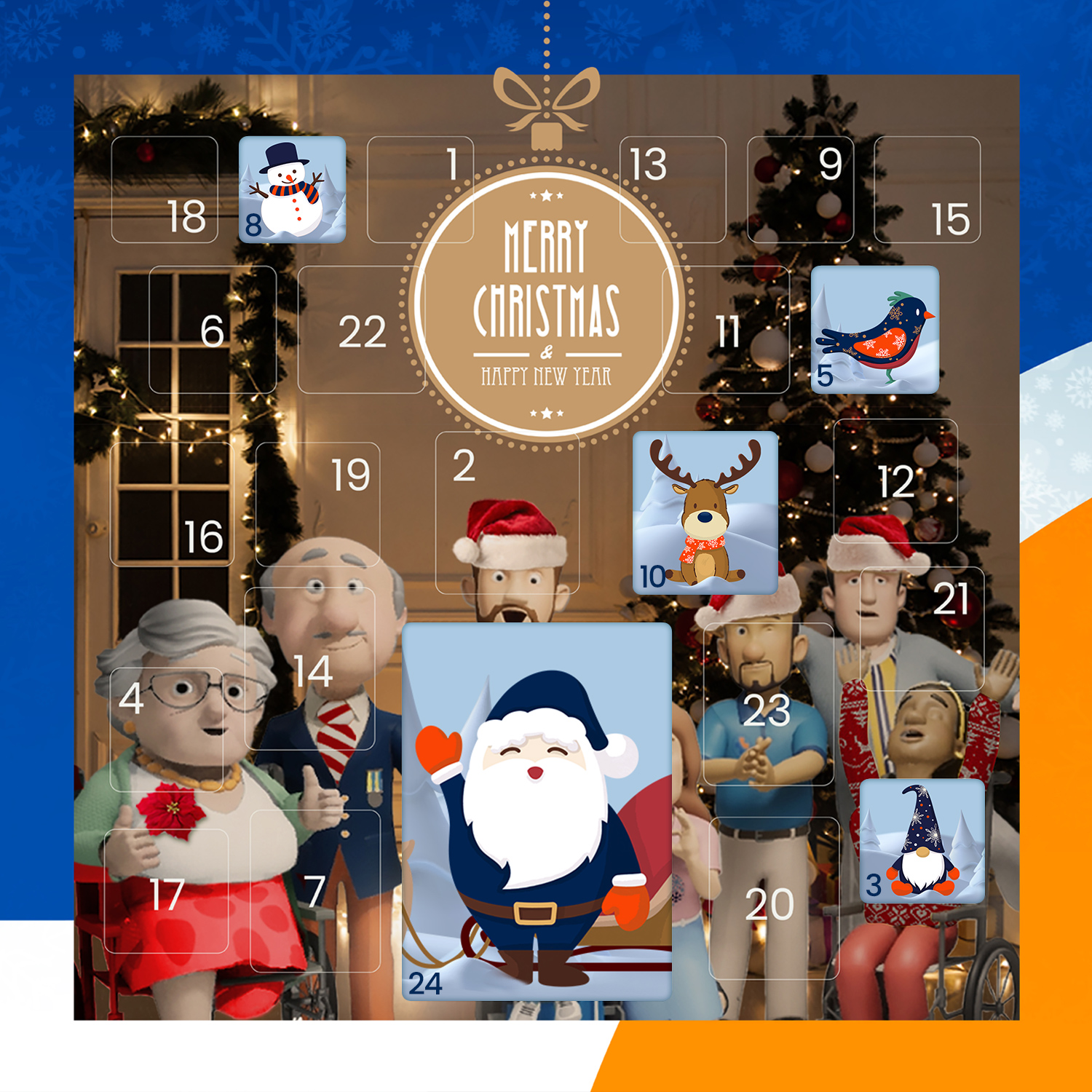 Competition
Terms and conditions
​1 How to participate
1.1 In order to enter this promotion, you need to guess the correct door and enter the information requested in the form provided.
1.2 All entries must include your name, email address, County, and telephone number.
1.3 Entries that do not comply with these terms and conditions will be void and will not be entered into this promotion.
1.4 You may enter this promotion once each day of the promotion.
1.5 Using multiple email addresses to enter the promotion for more than the prescribed entry limit each day will not be allowed and any such entry shall be void.
2 Start date
This promotion will start at 8am on Monday 12th December 2022.
3 Closing date
The closing date for this promotion will be Friday 16th December 2022 at midnight. Entries received by the promoter after this time will be void and will not be entered into this promotion.
4 Selection of the winner
4.1 The winners of the prize draw will be the first two entrants randomly selected from all entries who chose the correct answer and submitted their entry in accordance with these terms and conditions.
5 Prize
5.1 The prize is a Hamper.
5.2 Please note that the Hamper may include products which contain alcohol.
5.3 Winners are advised to check all food and drink allergen labels before consuming any product within the Hamper. The promoter will not be legally responsible for any injury or loss caused by failing to check the allergen labels prior to consumption.
5.4 There is no alternative prize.
5.5 The prize is non-transferable and does not include any additional costs and expenses.
6 Restrictions and requirements
6.1 Please note the following restrictions and requirements apply:
6.1.1 Only one entry per person each day is permittable. Any extra entries will not be counted.
6.1.2 Winners cannot enter again the next day nor can they be drawn again.
6.1.3 Only one prize can be won per establishment for the entire competition.
6.2 Employees of the promoter and their immediate families are ineligible to enter this promotion.
7 Notification of the results and receipt of the prize
7.1 The promoter will notify the winner by email on the next working day after the previous day's draw.
7.2 The winner will receive their prize on or before 25th December 2022.
8 Publicity and personal information
8.1 By entering this promotion you agree to your personal information being used to process your entry, to contact you about your entry, and for the purpose outlined in paragraph 8.2 below. The promoter will use your personal information only in accordance with these terms and conditions and our privacy policy.
8.2 The surname and county of the winner will be published at www.Newcrossheathcare.com after the closing date.
8.3 If you do not want your surname and county included on the list of winners referred to above, please email info@newcrosshealthcare.com prior to the closing date of the promotion.
8.4 You may be asked to participate in publicity relating to this promotion if you are selected as a winner.
9 General
9.1 This promotion is operated by Newcross Healthcare Solutions, Waterside, Berry Pomeroy, Totnes, Devon, TQ9 6LH.
9.2 While nothing in these terms and conditions will limit the promoter's liability for death or personal injury caused by its negligence or for fraud, the promoter will not be legally responsible to entrants or winners for any losses that were not foreseeable to the promoter or to the entrant at the time of entry to the promotion or which are caused by a third party.
9.3 The laws of England and Wales apply to these terms and conditions, although if you are resident elsewhere you will retain the benefit of any mandatory protections given to you by the laws of that country.
9.4 Any disputes will be subject to the non-exclusive jurisdiction of the courts of England and Wales. This means that you can choose whether to bring a claim in the courts of England and Wales or in the courts of another part of the UK in which you live.