Back to news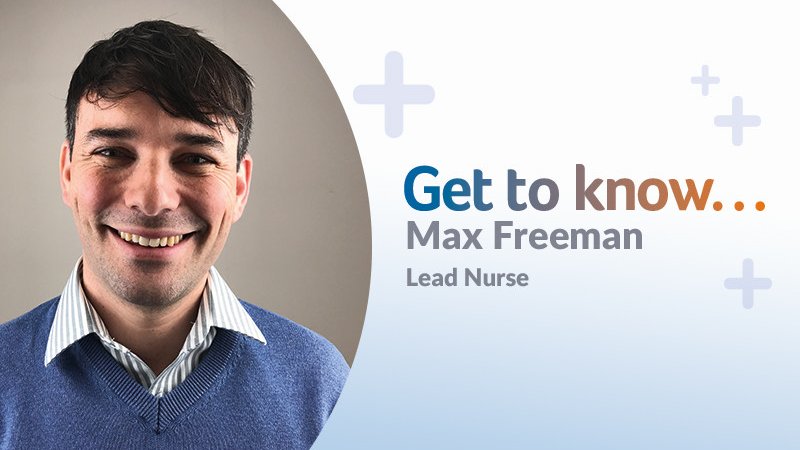 Nursing careers: The journey to Lead Nurse
​The role of a Lead Nurse is dynamic and varied. It requires unquestionable clinical knowledge and leadership skills. Max is a Lead Nurse working from our Bristol Complex Care branch, though he often visits service users in the field. He has had a fascinating career, starting out as a housekeeper in a local hospital, then later transitioning into nursing. We caught up with him to find out more about his inspirational journey.
Tell us a little about your previous work experience leading up to your role as a Lead Nurse in complex care here in Bristol?
When I was 17 years old, I got a job as a housekeeper in my local hospital. From there I became an HCA and then progressed to train as a nurse.
I first started as a nurse in accident and emergency, just over 9 years ago in a district general hospital in Kent. After a couple of years, I moved to London where I worked at Kings College Hospital, a major trauma centre and where the show '24 hours in A&E' was filmed.
I became a Senior Nurse and pursued my interest in patient flow and redirection as well as trauma care and staff development. I then worked as a Practice Nurse in a GP surgery for two years and most recently as a Nurse Adviser for a travel insurance company.
What does your day-to-day role involve?
As a Lead Nurse for the complex care team here in Bristol, my day-to-day role is quite varied.
I can be assessing new clients or reviewing current care plans, ensuring they are up-to-date and bespoke to the service user. I also build relationships with healthcare professionals, families and clients themselves. Additionally, I ensure that staff are supported and help them to be confident and competent carers, giving them clinical support when they need it. The variation is what I love about the role.
What was it that made you decide to specialise in nursing in the first place?
I was lucky to work as an HCA for a fantastic Sister called Dionne. She saw my potential and encouraged me to train to be a nurse. I am forever glad that she did! It's amazing how much one great team leader can influence your career so much.
Being a nurse gives you the opportunity to work in many different roles. I have had a fun and exciting career so far. I have experienced working with people from all walks of life.
What is your favourite thing about the job?
It's hard to choose one favourite thing. I enjoy getting to know the individual service users and their personalities, their backgrounds and how we can make a difference to their quality of life.
How do you go about ensuring the highest standard of care is conducted at all times?
Providing the highest standard of care is really important to me.
I ensure this is conducted at all times by maintaining high levels of communication with the wider team and all parties concerned, acting with integrity and professionalism. I also invest time in keeping my own skills and knowledge up-to-date and by following and implementing the fundamental standards set by the CQC. I then feed this information to my team.
What skills/areas would you recommend junior nurses should focus on to become a Lead Nurse?
To be a Lead Nurse, you need many years of nursing experience under your belt and to gain as much varied experience as possible in different settings. This will help prepare for the variety of situations you encounter in a role like this. You also need to be comfortable leading teams and offering clinical advice.
What are your thoughts on the current provision for complex care in the UK currently?
I think it is an exciting time for complex care throughout the UK. As Newcross is continually growing its client base, we are able to provide essential care to more individuals across the UK. This drastically improves the quality of life of these people, enabling them to remain in their own homes and reducing admissions to hospital – this is so important!
How do you feel Newcross provides care for individuals that goes above and beyond that of other providers?
Newcross is able to provide care, 24 hours a day 7 days a week. Staff receive training in how to provide care for an individual's specific needs, whether that may be for enteral feeding, dystonia, epilepsy or any other complex need. Newcross' investment in our clinical expertise, for example with the Care Associate apprenticeship, goes above and beyond that of our competitors.
Are you a nurse looking to develop your career? Take a look at our latest job vacancies today!