Back to news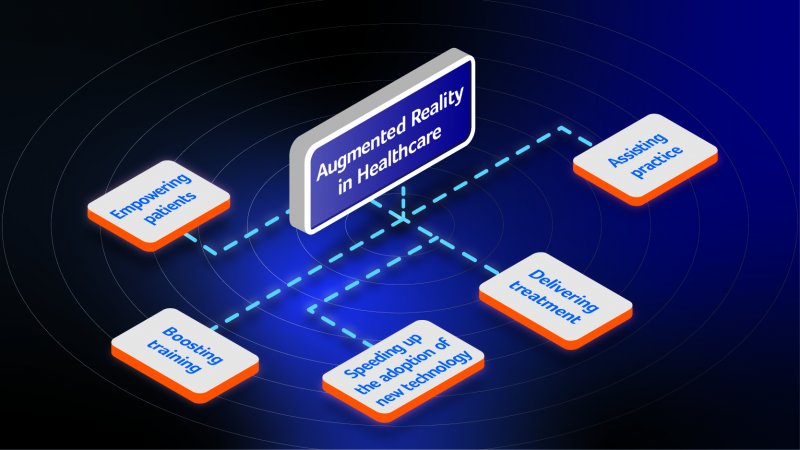 Exploring augmented reality in healthcare
A​ugmented reality (AR) is the use of displays, cameras, and sensors to overlay digital information onto the real world. In contrast to Virtual reality (VR), which creates an entirely new world, AR allows us to bring the most useful information from the digital realm and projects it onto the environment surrounding us.
Let's explore some of the augmented reality apps that are revolutionising different aspects of healthcare in the UK...
Paediatrics
Alder Hey Children's Hospital in Liverpool, UK has launched a new augmented reality tablet app for children to entertain, educate, and distract the hospital's young children. In Alder Play, available on iOS and Android, children can choose an animated avatar who will appear on the app as they visit different parts of the hospital and offer them entertainment, information, and support, as well as challenges they can complete to unlock new content.
The app was designed to alter a child's experience in the hospital.
Mental health
Saagara – Better Life and Mental Health through Augmented Reality
Saagara is a company that developed a full range of augmented reality healthcare apps for wellbeing, mental and physical health. The apps cover:
Stress relief

Meditation

Yoga

Breathing lessons

Weight loss

Improved sleeping
Dementia
'A Walk Through Dementia' features three everyday situations. In each, we demonstrate symptoms that pose challenges to people with dementia.
Presented in virtual reality, you'll look at everyday life through a new lens. You may be familiar with some of the symptoms you'll experience, others may surprise you.
This app was developed by Alzheimer's Research UK, guided by people living with different forms of dementia. They were all keen to help you understand what everyday life can be like for them.
Blood tests
Many people have a great fear of blood tests mainly because they are afraid that the nurse or phlebotomist does not find the vein at the first time, but it will be a lengthy and torturous procedure.
AccuVein uses AR by using a handheld scanner that projects over skin and shows nurses and doctors where veins are in the patients' bodies. Luciano estimates that it's been used on more than 10 million patients, making finding a vein on the first stick 3.5x more likely.
Mobility
Glasschair, a new application developed for Google Smart Glass at the Technical University of Munich, offers hands-free operation to wheelchair-bound individuals. This could be a real boon to amputees or those who have lost the use of their hands due to injury or disease.
Linked to the wheelchair through an adapter and a Bluetooth connection, the app enables chair control via intuitive head movements and voice commands.
For more articles about technology and healthcare, take a look at our blog.