Back to news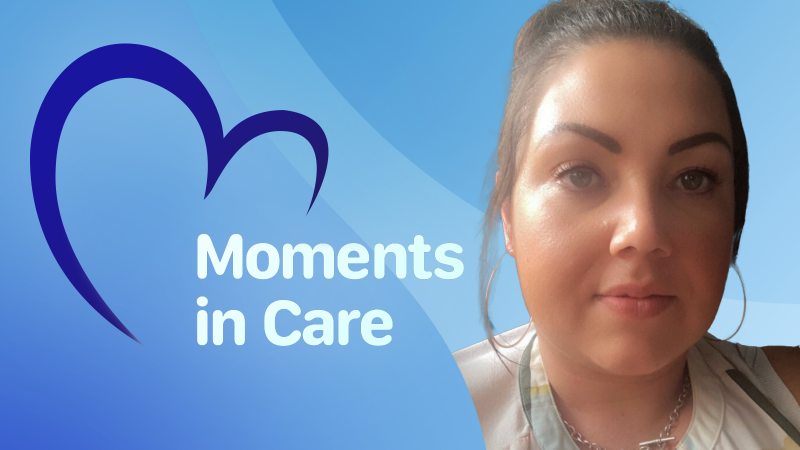 Sophie Lewton - Moments in Care
​We've been speaking to some of our healthcare community about their Moments in Care – that moment when they knew that they wanted a career in care – and we'd love to hear yours too!
Here, we share the story of Sophie Lewton, Central Support Continuous Improvement and Admin Team Leader, who talks about how her caring for her nan provided her Moment in Care.
"I finally feel I'm able to make a positive impact"
I looked after my Nan for four years while she battled terminal cancer. I was very close to her and watched her struggle through the pain. It made me realise how the smallest things can have such a huge impact on someone's life, when they are unable to care for themselves. I attended all her hospital appointments and provided her daily personal care, cooking her meals and dressing her wounds. I was there when she took her last breath.
My Nan knew I wasn't happy working in my job in finance where I had been for 14 years, and made me promise that I would go into the care sector. She believed I had more to offer and told me I should do something more meaningful.
The day my Nan passed away, I made a decision to honour my promise. I started working in a care home the following week and was trained in dementia and nursing. I made some fantastic new friends and became quickly attached to the residents I was looking after. They would tell me their stories and how they ended up in care. The majority of them didn't have any family who could care for them at home. This made me rethink my choice, so I applied to work in homecare too.
I started working with a very reputable company but realised not everyone in this industry shares the same passion as me. There were a lot of carers who were just in it for the money and as a result, people weren't getting the care and support they truly needed.
I trained in catheterisation and medication administration so I could take on the clients that needed me most. I would regularly work 14-hour shifts to ensure all my clients received the care they needed. When I arrived home at night I was exhausted, but had a huge sense of satisfaction, knowing that all the people I cared for were clean, fed, safe, and tucked up in their beds.
As time went on, I started to notice inconsistencies in how the company operated and when things went wrong it was very frustrating. There was no one there to support or listen to me. I realised that as a carer they looked down on me and just considered me as another employee. They didn't seem to care about the people receiving care like I did, just the money they were earning.
Feeling deflated and helpless, I started to look for other employment. One night I came across an advert for Newcross looking for someone to work in CS, supporting carers out in the field. I realised this was the perfect opportunity to support other carers and give them the voice and support I never had. Luckily, I had the experience required because – thanks to my Nan – I had both office work and care work under my belt.
Since working for Newcross I have felt so much more satisfied and love having conversations with my colleagues who are doing an amazing job in providing care. I feel like I am finally where I need to be, and in a position to make a difference for both our clients and staff.
I've spoken to hundreds of my care and nursing colleagues who have been in tough situations, and it feels so wonderful to be able to support them in a way I never was at other companies.
I also have a fantastic clinical governance team who are passionate about what they do and are always there when we need help.
With Newcross, I finally feel I'm able to make a positive impact on the lives of people who truly need us and don't have a voice. I feel this is where I am meant to be and if it wasn't for my Nan, I may have never found it.
Your Moments in Care
Sophie's passion for helping others is certainly inspirational, and this is one of the qualities that helps her to do her job so brilliantly. If you'd like to share your Moment in Care with us, please send your story through to communications@newcrosshealthcare.com – we'd love to hear it!