Back to news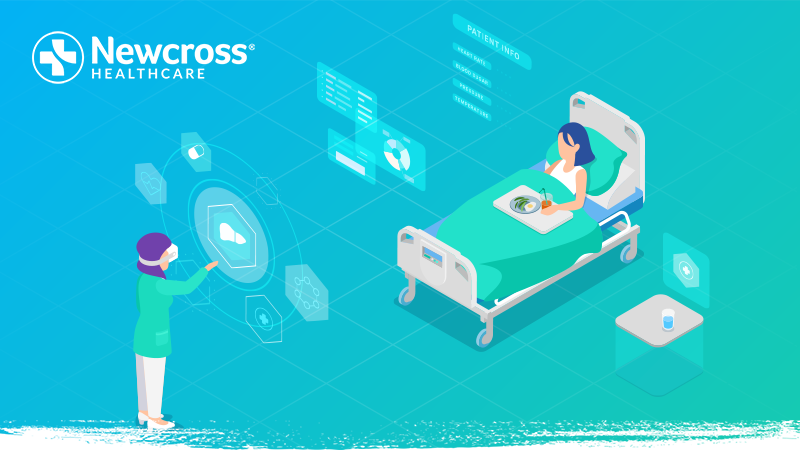 5 trends shaping the future of nursing
Written by Michelle Gorringe: RN , COO and Co-Founder
​As a result of COVID-19, the health and social care industry is under enormous strain with staff putting Herculean efforts into maintaining high standards of care. In response to this pressure, the industry is on the brink of disruption, fuelled by innovation and technology and demand for alternative training and working opportunities.
This International Nurses Day, the theme is 'A voice to lead - A vision for future healthcare' - I thought this an opportune time to look to the future and explore what I predict will be the biggest trends shaping the nursing profession in the next few years. ​
Trend 1: New routes into nursing
Nurses continue to be one of the largest workforce shortages in the NHS. In 2020, the vacancy rate for Registered Nurses exceeded 10% in June, and nurses accounted for 45% of all vacancies in NHS hospitals and community health settings in England. It's safe to say that getting more people qualified to take on the responsibilities of nurses will remain a priority for any government for some time. Particular emphasis will remain on creating alternative routes for healthcare professionals to upskill and for new people to enter the profession. ​
One such route is the Nursing Associate apprenticeship, announced in 2020, to bridge the gap between Healthcare Assistants and Registered Nurses. It has already been widely reported that Healthcare Assistants are increasingly taking on responsibilities that were once reserved for Registered Nurses due to stretched resources. The apprenticeship route is open to those with at least a year of professional care experience to further develop their career. This involves gaining employment by a specific health or social care organisation whilst studying towards a foundation degree programme and completing placements across different care settings. Nursing Associates can then 'top up' this qualificationthrough another apprenticeship to become a Registered Nurse.
Another key benefit of this route is that, unlike the traditional 3-year nursing degree, Nursing Associate qualifications are typically paid for by an apprenticeship levy. The combination of decreased government funding and increased degree costs has served to deter many from entering the profession or by leaving those who qualify with significant student debt.
To compete with the flexibility of the Nursing Associate route, we are seeing more and more universities recognise the need for part-time and flexible learning pathways. Some universities are now offering part-time nursing degrees for experienced Healthcare Assistants, for example the Open University and the University of South Wales, and this is a trend we expect will only become more prevalent. ​
To accommodate and ensure accountability for the Nursing Associate role, it's possible that the Nursing and Midwifery Council could introduce a new way to join their register with a PIN.
Trend 2: An increase in flexible working arrangements
Nurses are increasingly seeking a flexible working arrangement as an alternative to the more rigid rotad approach The nursing workforce is predominantly, though by no means exclusively women, many of whom have caring responsibilities. Because of this, more nurses are opting for flexible agency or bank work. At Newcross Healthcare, we empower nursing and care with flexible working patterns that fit around their lifestyle - we've found many nurses that join us are seeking the freedom that more traditional employment doesn't offer.
I expect to see health and social care providers as a whole seek solutions to embed flexible working into their culture to accommodate this shift in demand. ​
Trend 3: Technological advancements revolutionising the delivery of care
Innovative new technologies are being used to improve the experience of patient care whilst supporting carers, nurses and doctors with care provision. Here are just some of the trends I think we'll see in the years to come. ​
Virtual triage and consultations
Virtual triage, consultations and health assessments have become a port-of-call for primary care since early on in the COVID-19 pandemic to mitigate the risk of spreading the virus and limit footfall in GP surgeries, hospitals and clinics.
I think this change will be here to stay, even in a post-COVID world, as it can serve as an efficient screening process to assess an individual's needs. For example, for GP surgeries, it helps manage resources effectively if individuals do not need a physical appointment.
Tracking vital signs with wearables
Self-monitoring vital signs via smart devices that automatically send data to digital health records for clinicians to review. This is likely only a matter of time as, already, we're starting to see individuals with devices, such as Oura rings, present this data to their GP if the device is indicating a cause for concern such as low sleep quality or an elevated resting heart rate.
Data-led care planning and resource management
Technology can offer a timely, efficient and useful way to capture and record care notes and lead to an improved service with greater transparency and less margin for error. I believe that clinical mobility (the use of mobile devices such as tablets and phones), already commonplace for larger care providers and parts of the NHS, will become more widespread. For example, here at Newcross Healthcare, our Complex Care teams use the PASSsystem on their smart devices to update care notes and details, such as medication administration, in real time. This allows for a more personalised and accurate provision of care. This system can also provide a gateway for relatives, so family members can log in from a distance to read information about their loved one's day.
With the information above in a centralised, digital format, we're able to analyse patterns to support with care planning. For example, if a client tends to fall in a certain place in their home around a certain time of day, these trends can be picked up on and preventative measures put in place. In other care settings, such as hospitals and care homes, this could help with resource management to ensure adequate staffing levels for when incidents are more likely to occur. This level of analysis is highly valuable to all health and social care providers, and I can see it becoming commonplace.
Keeping in touch with smart devices, social media and video calling
Throughout the pandemic, due to concerns over the safety of patients and residents, many care homes closed the doors to external visitors. To help them stay in contact with friends and family, providers have made use of social media and smart devices for them to keep in touch.
As healthcare providers continue to find new uses for technology in clinical settings, I predict that there will be a greater emphasis on training for nurses to ensure that they understand how to make use of clinical mobility and digital diagnostics and treatments.
Trend 4: Changing models of care and increased delivery of care in the home
Remote monitoring, and other digital technologies are encouraging the feasibility and popularity of care in the home. For example, to support independent living within the home as an alternative to residential care, clients can be provided with an alarmed fall mat which will alert clinicians of the incident for a quick response. Smart devices that monitor vital signs could be employed to alert care staff of when an individual requires hospital admission and ultimately serve as a way to prevent conditions from deteriorating to the point that they require admission in the first place.
This means that, in the future, when we are admitted to hospital, our care needs may be much higher and care in the home will become more prevalent. Additionally, particularly following the COVID-19 pandemic, it's likely that people will prefer to receive care within their own home rather than a hospital or clinic, to reduce the risk of catching the virus.
These trends are altering the skills needed in different settings and changing the way professionals work. Carers, nurses and doctors will need full training to make best use of the technologies available to them and digital skills, or the propensity to learn, will become a requirement for new hires. To meet the increasing demand for care in the home, more carers will need to adapt to working independently in relative isolation and this in turn will require easy-to-access best practice and both clinical and technical support. At Newcross Healthcare, our Central Support and Clinical Governance teams operate 24/7, providing in-the-moment support when our staff need it the most.
Trend 5: Increase in nurse-led social prescribing
The UK government's Health Secretary Matt Hancock has always said his ambition is for every patient in the country to access social prescriptions on the NHS as readily as medical care. Social prescribing serves to divert patients to appropriate services, bypassing an appointment with a GP, either via self-referral or through a link worker.
Some Clinical Commissioning Groups and local authorities are already investing in social prescribing schemes which are often run by the voluntary sector, including activities such as gardening, healthy eating and exercise support, singing groups and ballet.
However, nursing leaders believe that, in the future, Practice Nurses or nurses delivering care in the home have a vital role in ensuring the success of this new type of healthcare by using their clinical knowledge and experience of an individual's care needs to identify those who may benefit from this and which service is most appropriate.
It's a very exciting time to be a nurse. Nurses will play an instrumental role in shaping the future of the health and social care industry. However, to keep up with the tides of change, training providers will need to help nurses build on technical skills and support them to adapt to new ways of working.
If you're looking for a nursing role, take a look at our current vacancies. We'd love to welcome you into the Newcross community.