Back to news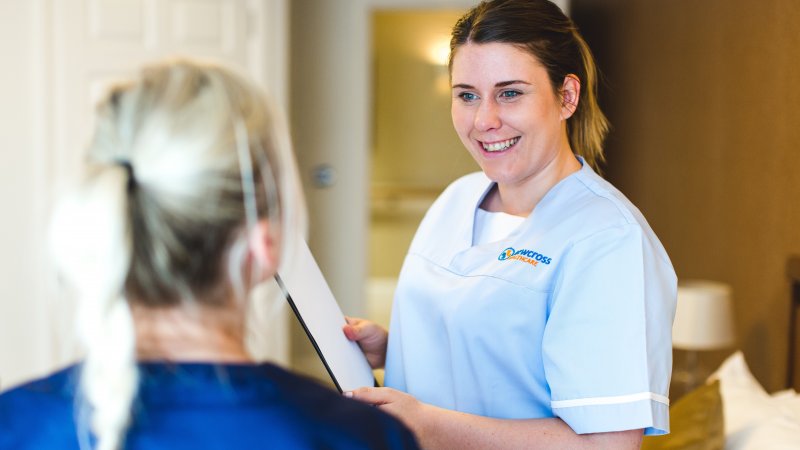 What to expect from a moving and handling course
​Working within healthcare and social care settings often involves moving, lifting, or otherwise manually handling the people within your care. With this in mind, our moving and handling training programmes are designed to educate participants regarding both the requirements and risks associated with manual handling.
Moving and handling training at Newcross
At Newcross, healthcare staff are required to undertake moving and handling training prior to their start date and then every year. This means that by the time they're caring for our service users they have all the skills they need.
For experienced carers joining Newcross, we assess their skills and knowledge using an online training and assessment module. For those that do not achieve the demanding 90% pass mark, they are routed through to one of our practical courses. For less experienced carers – perhaps those who have been caring for family members, we will signpost them directly to our practical course.
This ensures every staff member is assessed and offered the right level of support.
Safe moving and handling requires healthcare assistants to know the correct procedures for moving adults and children without causing injury to either themselves or the person they are supporting. This includes learning to use hoists and other aids and being aware of the legislation surrounding moving and handling.
The moving and handling training programme consists of both theory and practical elements including:
Legislation

Manual Handling definition

Causes of injury (spinal awareness)

Ergonomics and principals of safe Manual Handling

Hazard Reporting and Manual Handling Risk Assessment

Client load handling criteria

Choice of equipment (POL 318A) Moving and Handling Policy (Homecare and Complex Care Services). V1.4 Updated 31.07.17 Page 3 of 8

Communicating with patients and co-workers

Practical safe handling techniques
Current moving and handling course learning outcomes
Understand the Manual Handling Operations Regulations 1992, as amended by the Health and Safety (Miscellaneous Amendments) Regulations 2002 and the employer and employee duties of these.
To learn how to use (E)LITE as a tool for a risk assessment

To understand the basic functions of the Spine. To learn effective moving principles

To understand hazards associated with manual handling, common back injuries and appropriate back care

Discuss controversial techniques and the outcomes of poor practice

To learn and demonstrate safer people handling techniques

To identify the different type of manual handling equipment and its correct usage
To find out more about our courses, take a look at our learning and development offering.